No scholarship program would be complete without an essay as a part of the application. Because The Ivy League Connection is extra special, there will be two essays required.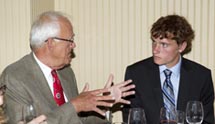 All essays must be emailed as a Word document to dongosney@comcast.net following the instructions listed on each essay prompt page. If you do not have access to Word you should call Don Gosney at 233-2060 so alternatives can be discussed.
The first essay is a brief 250 word Pre-Essay used to determine if you understand what it means to be a part of the ILC. Only one Pre-Essay is required no matter how many programs are applied for. The Pre-Essay is due at the same time as the first program essay. Applicants may submit revised Pre-Essays for subsequent programs but the file name MUST be revised to indicate the revised essay.
Then, for each program, there will be a specific essay (between 500 and 800 words in length).
All applicants are advised to proof their essays, proof them again and then proof them again before submitting them for consideration.. You only have one chance to make a first impression. An unproofed essay sends a message that the author can't spell, doesn't know punctuation, can't write, can't type or just doesn't care what people think. None of these are good things. Since your competition most likely has followed the advice to proof their work, wouldn't it be better to proof your work as well?
Because the ILC wants each applicant to be judged on the content of their essays, all essays will be reformatted by the ILC before being submitted to the Selection Committees and the panelists. What they will see will be essays with the same font, font size, margins and spacing. The essays will be judged on their content and not their presentation.
What will not be corrected will be any typos or errors provided by the applicants.
PRE-ESSAY PROMPT
SCHOOL SPECIFIC ESSAY PROMPTS
DISTRICT WIDE ESSAY PROMPTS