For each program a Selection Committee will review the applications and prepare a list of qualified applicants to be interviewed. If an applicant has made the short list, they will be contacted and advised about the details for the interview.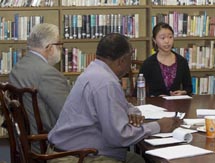 All interviews will be held at night at El Cerrito High School. Details will be provided.
The requisite attire for these interviews will be business casual at the least. For the ladies, a pants suit, a dress or a skirt and blouse would be appropriate. For the gents, dress shoes, dress slacks and a dress shirt is the minimum. A sport coat and tie would be nice and a suit would be nicer. If the suit does not fit, don't wear it. No applicant will be admitted if they arrive wearing sandals/running shoes, jeans, shorts or casual attire. Dress like you're applying for an internship at The White House. This is one of those occasions where an applicant needs to dress like their scholarship is on the line—because it is.
For the gents, YouTube has some great video tutorials showing you how to tie a tie. Master this before the day of your interview.
Neither Don Gosney or Madeline Kronenberg will have a vote on who is selected for the program. A panel of top flight volunteers made up of university alums, lawyers, doctors, city councilpersons, city managers, financial experts, architects, engineers, scientists and others will serve as the panelists.
There is nothing for an applicant to be worried about when they arrive for the interview. Everyone there wants every applicant to succeed and they will do whatever's necessary to give each applicant an opportunity to shine.
Each applicant will be asked 10 questions. For the Physics and the DNA/Biotechnology interviews, 5 of those questions will be science based. All of the other questions will be questions where the panel wants to know what the applicant thinks. For those questions, there are no right or wrong answers. Tell the panelists what you think and then explain your viewpoints.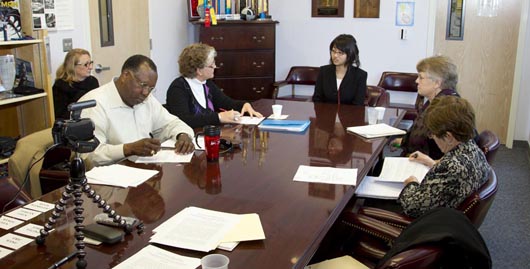 No matter what the program, the 10th question will be the same and every applicant will be given the question well in advance so they can prepare their response:
"Is there anything you can tell us to convince us that
you're the best applicant for this scholarship?"
This is your opportunity to tell the panelists how great you are. For all they know, you just stepped off the plane from Norway earlier that day where the King of Norway draped the Nobel Peace Prize around your neck but it wasn't included on your transcripts. Without retelling what's on your transcripts, tell the panelists why you're the best applicant for this scholarship. Tell them why you want to be a part of the ILC, how it's going to affect your life and what we can expect you to give back to your community when you return.
All applicants are advised to review the Interview Tips. Practice interviews among your classmates are a good tool to help you to be competitive.
One of the best ways to prepare yourself for the applications and interviews is to work with other interested students, your teachers and ILC alums to set up an ILC Club at your school where you can work with other interested students. Review interview discs, practice interviews, work with each other proofing your essays, master the necktie knot, perfect that endearing smile and transform from a scaredy cat to a highly confident scholarship applicant.
Most important, though, is to relax and be natural.