The Ivy League Connection was recently awarded the prestigious Golden Bell Award by the California School Boards Association.
The Golden Bell Awards program recognizes exemplary programs in 22 major categories, which are essential to support teaching and learning.
The Golden Bell Awards program, now in its 34th year, promotes excellence in education by recognizing outstanding programs in school districts and county offices of education throughout California. Golden Bell Awards reflect the depth and breadth of education programs necessary to address students' changing needs.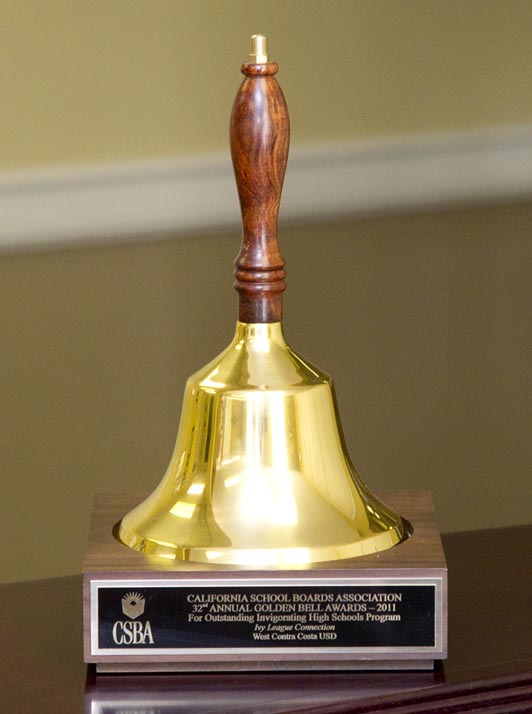 This awards program contributes to the development and evaluation of curriculum, instruction and support services by:
seeking out and recognizing sustainable, innovative or exemplary programs which have been developed and successfully implemented by California teachers and administrators;
recognizing and supporting educators who invest extra energy and time to make a demonstrated difference for students;
promoting models which have made a difference for students; and
focusing on the commitment to ensure that the needs of all students are met.
In 2010 the National School Boards Association awarded the WCCUSD School Board their Magna Award for their support for The Ivy League Connection.
This coveted award is awarded to school districts who have shown leadership skills for implementing programs that have:
Been developed or actively supported by the school board
The result of appropriate school board leadership
Are successful in view of the program's primary objectives
Are important in promoting the district's mission and advancing student learning
Are capable of being replicated by other school boards with similar conditions and resources
Are the result of collaboration between the school board and others.