During the Spring and before the ILCers are whisked away to their summer programs there are five mandatory events that they must attend. With the exception of the Tutorial, one parent must accompany each ILCer. [At the dinner we can only afford to have one parent join us.] At all other events, the entire family is welcome to attend.
APPLICATION PARTY~ Parent participation not required
As soon as the school opens up their application process an application party will be held. New ILCers will be invited to gather where, in the presence of and under the strict guidance of the ILC, applicants will complete their application to their school and class of choice. The ILC cannot afford to have any of our ILCers rejected because they failed to properly fill out their applications and submit them early enough to optimize their acceptance.
TUTORIAL ~ Parent participation requested but not required
In the early Spring two dates will be offered where ILCers (and their parents, if they wish) can attend a 3-4 hour tutorial where they will be taught:
computer skills
how to blog
how to use the tools on the blog sites
examples of good blogs and bad blogs
hands on blogging practice
what will be expected of them during their trips
how to take better photos
how to rework the photos on their computers
time management
how to insert their photos into their blogs
what to pack for their trip
laundry tips
and a wide variety of other useful information
FANCY DINNERS ~ Attendance of one parent is mandatory
Each school group will travel to San Francisco to attend a fancy dinner with the sponsors of the ILC as well as alums from the school they'll be attending.
This will be an opportunity for our young ILCers to experience events in an atmosphere often different from what's normal for them.
The group will meet at the El Cerrito Plaza BART Station (always the Plaza) where we will travel as a group. ILCers should review the map that will be sent to them with the notification email,, learn the traffic patters and leave early so they can arrive early.
There is no excuse for being late.

The dress code for these events will be to dress like you're going for an interview at the White House. Arrive in casual attire and you'll be left behind and your place as an ILCer will be vacated.
One or two students may be asked in advance to make a short speech. Rather than standing before the assembled group reading in a soft monotone voice from a prepared speech, consider coming in with a few bullet points and just talking to the group. Speak from the heart and it will be received much better than reading from a prepared speech.
SCHOOL BOARD MEETING ~ Attendance of one parent is mandatory
In mid May the entre ILC will be brought before the School Board where they will be introduced to the Board, the hundreds of people in the audience and the millions of your adoring fans watching on TV and the Internet.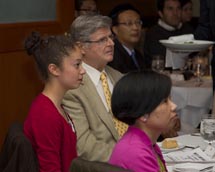 This will be a chance for your community to publicly tell you and the world that we're proud of you and we're anxiously awaiting the great things we know you'll be accomplishing.
Some students may be asked to speak. The same advice as was given for the dinner speeches applies here.
The dress code is similar to the dinners.
When the presentation is concluded, the meeting will be halted and you, your parents and the chaperones will gather in the back corner for a group photo (similar to the one on the Home Page of this site). These poster sized photos will be displayed at your schools, on the web and blog sites and also in the lobby of the District offices.
CITY COUNCIL MEETINGS ~ Parent participation requested but not required
Some communities welcome the ILC at their City Council meetings so they can share in your accomplishments. Hercules and Pinole are two of the most supportive communities.
If you live or attend school in one of these cities, you will be expected to attend this meeting and you may be asked to rise and say a few words.
These meetings are televised and can be recorded.
The dress code calls for you to be dressed up. Dress to impress.
ORIENTATION ~ Attendance of one parent is mandatory
In late May or early June there will be an evening orientation at El Cerrito High School where you and at least one parent will meet with the rest of your cohort and chaperones and learn the details of the trip.
The itineraries and travel arrangements will be shared, details about lodging accommodations and what to pack will be discussed as well as discussions about the site visits to other universities.
Dress is casual.
MAKE SURE THAT YOUR PARENT(S) UNDERSTAND THAT IF THEY DO NOT ATTEND THIS EVENT THAT YOUR SCHOLARSHIP WILL BE REVOKED
After each of these milestone events, our ILCers will be expected to post a blog.