Founded by School Board members Madeline Kronenberg and Charles Ramsey and administered by Charles, Madeline and Don Gosney, the ILC is a 100% voluntary effort by everyone involved. Even the school administrators volunteer their time and efforts.
Nationally and State recognized for their innovative approaches, the ILC works hand in hand with the District to provide scholarships to summer programs at highly selective Ivy League schools. For 2013 there are 11 programs at six schools available to the District's students. For more information, see: '14 ILC Course Offerings URLs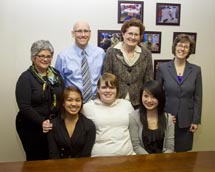 The program is available to all qualified sophomores and juniors meeting the basic qualification standards of a weighted GPA (from the 9th grade) of 3.75.
Applicants must submit a generic Pre-Essay explaining why they want to be a part of the ILC and then a lengthier program specific essay. A selection committee will review the transcripts, test scores and essays and develop a ranked list of applicants to be interviewed by a panel of professionals that may include doctors, lawyers, architects, scientists, elected officials, city managers, teachers and more. The panelists are given wide latitude with their selections with the proviso that the ILC will only send qualified students to these programs.
WHAT ARE THE BENEFITS OF BEING AN ILCer?
Like most school districts these days, the WCCUSD encompasses an economically challenged community. The community does not have the resources necessary to provide their children with the kind of education that other more affluent communities might. Time and again, though, the students of the WCCUSD have demonstrated that they have the skills necessary to compete with the best and the brightest from other areas—if they're only given the chance.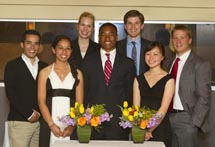 No matter how bright, how motivated or how driven our students are, we all need a little help now and again.
How many times have we been told about greener pastures and the "better" life that's on the other side of the door? What about those students who don't know where that door is and what about those students that don't even know that the door exists?
What the ILC strives to do is to show our students where those doors are, unlock the doors, escort them through and then introduce them to the people on the other side that can make good things happen for them. What they do once they have that opportunity is entirely up to them but at least they now have the opportunity.
THE COLLEGE GOING CULTURE
More and more of our students are being made aware that the chances for a better life is much greater with a high school diploma than it is without one. The same is true for people with a college education. We want our students to understand this and to embrace the opportunity for a better life.
Along with others, the ILC is working to institute at our schools the college going culture so from a young age our students start thinking not just about going to college but what it's going to take to get there.
THE ILC IS NOT COLLEGE CAMP
Let no one be confused into thinking that The Ivy League Connection is like College Camp. No one is going to be sitting around the campfire singing Kumbaya and making keychains and Popsicle stick wall hangings. The courses chosen for our students and the schools they'll be attending are tough and demanding.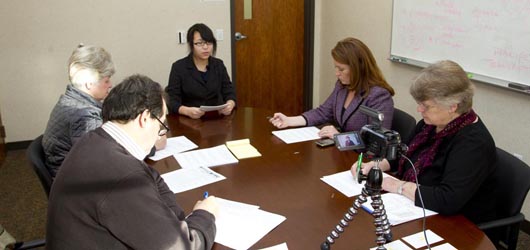 Let there be no question that ILCers will have fun while back east but no one should delude themselves into thinking that these courses are similar to what they might take locally at the "Y".
These courses and these schools have been carefully vetted and the ILC will only send students we believe to be capable of excelling at these courses.
WHAT HAPPENS ONCE A STUDENT IS SELECTED
Once the panelists select a student to be a part of the ILC, that's when the fun and hard work starts.
ILCers are taught how to dress, speak, write, comport themselves and transition from being a mid level high schooler to a collegian. The ILC is going to work with them every step of the way to prepare them even further for their adventure.
We make it clear to our applicants that from the moment they show an interest in the ILC, we're going to treat them as an adult all the way up until their actions demand that they be treated as a child. With just that simple treatment we've found our ILCers to rise to a higher level.
When they attend ILC functions, they'll be talked to and listened to as adults. People will hang on their every word. That's why we advise them to think about what they write and say so they can astonish with their profoundness and impress everyone they meet.
ISN'T THIS EXPENSIVE?
Yes. The ILC will spend, on average, about $9,000 to $10,000 on each of our students.
The cost to the students and their families, though, is zero. The only cost to the students will be for spending money while back east, and any overages if their luggage weighs too much (we weighthe luggage before our ILCers get on the airport shuttle). The ILC will cover transportation, lodging, meals, tuition, books and just about everything else. We even buy them a souvenir sweatshirt to wear home.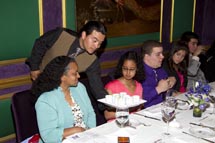 THE GUIDANCE CONTINUES
As bright and mature as these ILCers are, they're still just young adults and they need to have an adult figure close at hand to handle emergencies and other items that an underaged young person cannot handle on their own. The ILC sends adult supervision in the form of chaperones with every cohort group.
These are seasoned and vetted District employees who will serve as an emergency resource for our ILCers. These aren't babysitters or surrogate parents—they're a lifeline in a time of need.
THE PERFECT FIT
Between the UC and the Cal State systems, California has some of the best universities available. STILL, they may not be the "perfect fit" for our students. Excessive class sizes and the lack of available funding can be but just a few reasons why our students may want to look elsewhere to go to school. With more than 3600 colleges in the US to choose from, there are a lot of options available to our students.
If, after checking out some of these others schools, they still choose a California school, then at least they're making an informed decision.
If you're mind is made up that you will only be applying to California
schools or a military academy, then the ILC is not for you. There are programs already in place to help pave the way for you.
THE COST OF A COLLEGE EDUCATION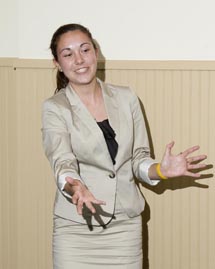 According to UC Berkeley's web site it costs in the neighborhood of $33,000 per year to attend Cal. For those of our young students who have never had to pay income taxes, this means that their parents would have to earn perhaps $63,000 per year before taxes just to come up with that $33,000. And the costs are guaranteed to go up every year.
Highly selective universities cost more than $60,000 per year ($120,000 per year before taxes). Unless a student has a benefactor, coming up with that kind of money on their own can be a daunting task.
Many of the schools we put our ILCers in touch with have large endowments available so our students can get a top-flight education with little or no cost to them and their families. They can even walk away from their collegiate years without student loans hanging over their heads.
The ILC will help point our students in the right direction so they can get a top tier education and get someone else to pay for it.
A SCHOLARSHIP WITH STRINGS
The Ivy League Connection offers a lot but it's not a free give-away program. There are strings attached—lots of strings. We expect our ILCers to earn their scholarships and to give something back.
Many of these strings are covered in other parts of this site and applicants and their parents need to read each page thoroughly so they know what they're getting themselves into. To highlight them, though:
MANDATORY EVENTS: prior to their departure ILCers will be required to attend specific events. For most of these, at least one parent must attend.
BLOGGING: Blogging is a critical and integral part of the ILC. It helps train our ILCers to be better writers and to think about what's happening to them.
COMMITMENT: ILC applicants must demonstrate that they are committed to giving back to their community and fulfilling the demands placed on them by the ILC.
COMPORTMENT: At all times the ILC expects our participants to comport themselves as ambassadors for their school, their community and their District. The ILC will not tolerate students who think that they can violate the ILC rules and behave irresponsibly.
Please read: '14 The List of 'I Understands'
GIVING BACK TO THE COMMUNITY: The ILC expects all of our ILCers to give something back to their community when they return. At the very least, we expect our participants to talk with their fellow students about their college experiences and convince them to aspire to greater things.
The Ivy League Connection is committed to providing to our students opportunities that can be life-changing events for our students. Like most opportunities, though, these rewards need to be earned. Our students should not expect anyone to beat down their door to give them a chance at a better life. We extend our hands to our students and if they want to reach out and take our hands, we're going to partner with them and help them to a better life. Working together we can make great things come to life.
---
There is so much to explain about the ILC. Putting it all on this Home Page would be too much. Interested readers are strongly urged to check out the pages listed on the left. Please feel free to contact any of the three administrators of the ILC and more detailed and explicit explanations can be provided.
What the Ivy League Connection provides are scholarships to pay for these programs. Each ILCer is still required to apply to and be accepted by the college or university hosting the course the Ivy League Connection scholarship will fund
The Ivy League Connection will work hand in hand with our ILCers to train them, prepare them and guide then through every phase of the application process all the way up until they matriculate to college,